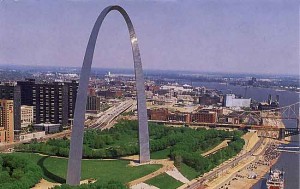 St. Louis's history showed her to be a city of business and excitement, a last stop before the frontier land of the entrepreneurial settlers heading west. Now that the west has been won, St. Louis has only grown in spirit, resolve, and beauty. Come see St. Louis for yourself and interact with history, culture, and the arts.

Home to the American Wonder, the Gateway Arch, St. Louis has no shortage of interesting sites. Ride the tram to the top of the 63 story monument, learn about its building, or visit the Old Courthouse, where the Dred Scott court case was tried. Visit the nationally-lauded St. Louis Zoo and get up-close with exotic animals or stop by the Missouri Botanical Garden, a 79 acre property with 25 themed gardens including the Japanese Garden.

For some education and enlightenment, the St. Louis Art Museum is second to none in the city. Tour the galleries to see Titian, Monet, Van Gogh, and more. St. Louis is also home to some beautiful history museums including the Missouri History Museum, the Holocaust Museum, and the Missouri Civil War Museum. If you enjoy science, stop by the Science Center to uncover dinosaur bones, experience a 4D film, or watch the night sky pass overhead at the planetarium.

St. Louis was the founding city of the Anheuser-Busch Brewery and now you can tour the facilities, meet the Clydesdales, and – for those of age – taste the products straight from the Finishing Tank. For more Busch family history and interaction, visit Grant's Farm to see two homes of President Ulysses S. Grant, exotic animals and shows, and taste authentic German bratwurst, pretzels, and Anheuser-Busch products.

Come to St. Louis and see the Cardinals play, have fun at Six Flags, or tour the restaurants and bars of the city. Have some fun in St. Louis on your next trip.