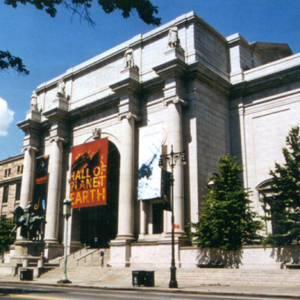 New York City, among its other shining qualities, is a city of world-class museums. On par with the Smithsonian, the Museum of Natural History is New York's premier history museum with exhibits and galleries on nearly every facet of our natural history. Search the skies, look deep into the world of bacteria, time travel to the land of dinosaurs, and learn about human societies from around the world.
Exhibits and collections span human and earth history from the prehistoric to our modern day knowledge of our universe. See how life thrives in extreme conditions, learn about natural disasters, and more with circulating temporary exhibitions. Tour the Mammal Halls and Dinosaur Wing where you will see a stuffed woolly mammoth, a constructed skeleton of a Tyrannosaurus Rex, and the fossils and bones of dozens of prehistoric creatures. Visit the Hall of Meteorites, the Human Origins and Cultural Halls, and the Hall of North American Forests to experience the full extent of what the museum has to offer. Kids in your group will enjoy the interactive Discovery Room, dinosaur exhibits, and the 3D films among the other interactive and immersive gallery features.
Groups are more than welcome to take self-guided tours with suggested itineraries like the Whales Tour, the Dinosaur Tour, or the Night at the Museum Tour among others. Museum highlight tours and spotlight tours on specific themes or galleries are regularly scheduled and are great for groups to learn more about the museum from expertly trained guides. Programs, events, and classes are available for every age group including adults, students, and families. Listen to the lectures, attend a film festival, a seminar, workshop, or nature walk.
The Natural History Museum is New York City's most immersive and interactive discovery center. Bring your group down and experience the amazing natural history of your world.