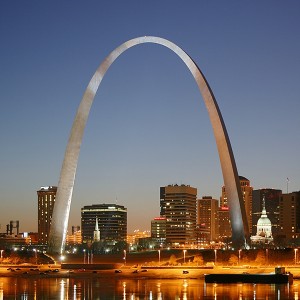 One of the American Wonders along with the Statue of Liberty and the Grand Canyon, the St. Louis Gateway Arch is a symbol of the frontier line, the border of discovery, and a hopeful door to the future of this great country. St. Louis is itself a historical city. The starting point to the Lewis and Clark expedition and the edge of civilization, where cattle drivers met East coast businessmen, St. Louis was the last stop before the gloriously undiscovered, untapped western territory. The Gateway Arch, otherwise known as the Jefferson National Expansion Memorial, is a tribute to that time of thrilling discovery.

Standing a staggering 630 feet in the air, the Arch is a mind boggling 63 stories tall! Travel to the top in one of the trams and see the city skyline from a bird's eye view. Visit the Old Courthouse where the famous Dred Scott court case was tried, watch the Monument to the Dream movie about the building of the Arch, or take an Arch sponsored riverboat cruise down the Mississippi to enjoy the St. Louis riverfront.

Groups large and small are welcome to enjoy the Arch and its sponsored attractions. The National Parks Service promotes ranger-led programs for the education and entertainment of the public with living history presentations on the life of early settlers. Other educational programs, group tours, and more are available for groups of all ages and interests. Various public events such as the spectacular Fourth of July fireworks display are held at the Arch among other regularly programmed activities.

For private events such as weddings, receptions, birthday parties, and more, book a riverboat cruise or rooms at the Old Courthouse to surround yourself in history and beauty for your special occasion.